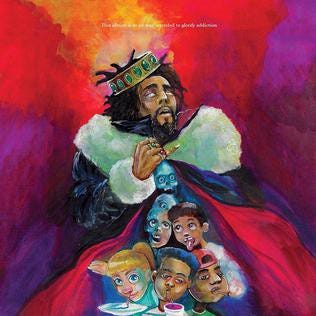 The first ten years of Jermaine Cole's rap career are a tale of two Coles. The first, an easy on the eyes, clean-cut, cocky kid with a ferocious delivery. He'd rap lines like "Either you follow me or swallow me, bitch. And I done hit too many hoes to ever pause that shit," and if you gave him a feature on your song? Well, it was no longer your song. (Ask Talib Kweli, Wale, and Kanye.) With the release of 2014 Forest Hill Drive, we met a second Cole; a fuzzy-locked, wrinkled sweats-wearing recluse, seeking transcendence from his ego's desires for fame, acceptance, and the trappings of material wealth.

He was always broody and occasionally prone to a style that prioritized talking to himself over enticing the listener. Vintage Cole visited that domain from time to time. Enlightened Cole lived there, trading his "I rap better than you" bars for gravelly, cathartic croons. Social media snarkers determined to peg him a self-righteous bore retreated to lazy "zzzzz" jokes. Apostles lauded his heartfelt, but straightforward observations as hieroglyphic gospels too complex for the simple-minded listener. Neither side left room for reasonable conversation. Meanwhile, Jermaine's cult following propelled him beyond the Twitter jokes to platinum sales and sold out shows at Madison Square Garden — no features or radio hits required. [1]

Cole's latest offering, KOD (Kids On Drugz, King Overdosed, Killing Our Demons) navigates the dark terrain of addiction with a flair that was greatly missed on 2016's somber 4 Your Eyez Only. It's an album of marriages. Vintage Cole's aggression meets Enlightened Cole's sensitivity. Nostalgic rap and R&B sounds meet contemporary flows and delivery. Ego meets transcendence. And you know what? It works.

You don't know what you're getting from the "Intro." The saxophone-supported preamble about coping with pain could easily lead to the sober style Cole's preferred the last few years. Instead, it's followed by the bouncy title track, which features a croon-free, easy-to-repeat hook and an uncharacteristically staccato flow. Then he spits…
"How come you won't get a few features?
I think you should? How 'bout I don't?
How 'bout you just get the fuck off my dick?
How 'bout you listen and never forget?
Only gon' say this one time, then I'll dip
Niggas ain't worthy to be on my shit"
Is it 2009?

Not quite. KOD has its share of brooding, reflective moments. Of these moments, "Once an Addict (Interlude)" is the standout; detailing the guilt and resentment of a son coping with an alcohol-addicted mother. The imagery of cheap Chardonnay and Al Green songs are vivid callbacks for adults of a certain age who've parented a parent. On "BRACKETS," he veers a too far into hotepery, [2] bemoaning high tax rates and having "no say" over how it's spent. It's the only heavy-handed song on an album that otherwise handles its hefty themes gracefully. I did, however, appreciate the reprisal of his Lil' Cole character trading his Sallie Mae evasion for arguments with Uncle Sam.

These songs sandwich a bold three-song stretch that serves as the album's climax: "ATM," "Motiv8," and "Kevin's Heart." Each track recalls a 2000s' classic. He rides these old favorites with today's popular choppy phrasing and repetitive ad-libs. On an album that explores addiction, the choice feels deliberate; producing a "this is your brain on drugs" mirror image to the pill-popping culture of mainstream "trap" rap.

The lead single "ATM," is by far the best song on the album. Here, Cole warns of the perils of paper-chasing using Trillville's "Some Cut" drums and Native Tongues-inspired piano loops. On "Motiv8," he gives us simultaneous breakdowns on the refrain; weaving a monotone emotional unraveling around the opening drums from "Knuck If You Buck." (See below.) "Kevin's Heart" explores infidelity with a syrup-synthed version of the "Say Yes" melody; heightening themes of temptation by lulling the listener into a body roll over confessions of selfishness and self-loathing. The preceding two songs accomplish a similar feat. They jam so hard, you almost forget how dark they are.
"Too many times I swallowed my pride
I'm crackin' a smile, I'm dyin' inside
My demons are close, I'm tryin' to hide
I'm poppin' a pill, I'm feelin' alive
I'm feelin' alive, I'm feelin' alive
I'm feelin' alive, I'm feelin' alive
I'm feelin' alive, I'm feelin' alive
I'm feelin' alive, I'm feelin' alive
I'm…"
 — "Motiv8." Like I said. Over the "Knuck If You Buck" drums.
The closing tracks "Window Panes (Outro)" and "1985 (Intro to 'The Fall Off')" offer more juxtaposition. With "Window Panes," he once more lays prostrate before the ills of the world, regretful of how little he can do to prevent them; once more to the tune of body-moving drums. With "1985," he plays wise elder to the new generation of poppin' rappers over stripped-down hoodie-and-Timbs production; issuing this warning shot to any face-tatted youngin' speaking out of turn:
I'm hoping for your sake that you ain't dumb as you look
But if it's really true what people sayin'
And you call yourself playin' with my name
Then I really know you fucked, trust
I'll be around forever 'cause my skills is tip-top
To any amateur niggas that wanna get rocked
Just remember what I told you when your shit flop
In five years you gon' be on Love & Hip-Hop, nigga"
For the first time in a long time, Jermaine Cole sounds like an artist who, in his bones, still loves rapping. No longer chasing the shadow of a larger-than-life mentor nor shunning contemporary sounds to prove he doesn't need them. For the Vintage Cole fan, who missed the wit and bravado of his earlier work, KOD is an enjoyable pairing of the two Coles: a socially aware man of the people who can still grab his dick and proclaim himself a rap god.

That's the thing about transcendence: you never kill your ego. While Cole's previous two releases felt like attempts to completely abandon his, KOD reflects an artist willing to bring it along for the ride while maintaining the integrity of his overall message.

___

[1] Okay, okay. "Can't Get Enough" and "Power Trip" did well on radio.
[2] Hate that word, but can't find a more appropriate one.